Lets get Shogo running like new!
Shogo MAD and Windows 10 are seperated by more than 20 years. Due to this generational gap, Windows 10 (also Vista and Win 8) hate Shogo.

On a serious note, Shogo will run but without a patch it will run pretty crappy. Fortunately there are two patches which address 99% of the issues you'll have running on modern operating systems.


dgVoodoo
Download from Original Site
Download from ShogoServers.com
Installation:
Install the game
Download the latest dgVoodoo 2
Unzip the 4 .dll from "dgVoodoo2_62_3.zip/MS/x86" folder into Shogo Installation directory.
Unzip dgVoodooCpl.exe & dgVoodoo.conf into Shogo Installation directory.
Launch dgVoodooCpl.exe, uncheck "dgVoodoo Watermark" from the DirectX tab & Apply.
Activate DirectPlay In Windows 10 (softlay.net/how-to/enable-directplay-windows-10.html)
In Shogo's launcher, go to Display and select dgVoodoo API with your desired resolution.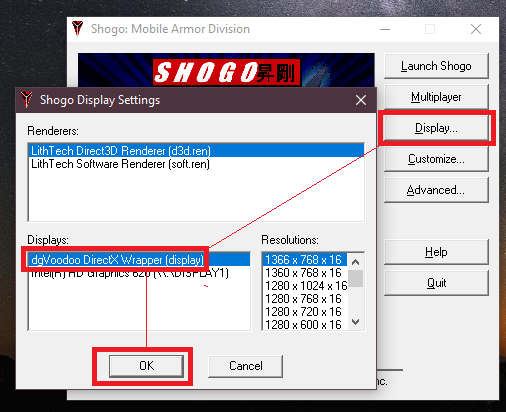 ---
WidescreenPatch
Original Download Site
Download from ShogoServers.com
Installation:
Put the "WidescreenPatch.rez" file in the "Custom" folder in the Shogo Installation directory.
Run the launcher, click on "Display", choose your resolution and click "OK".
Click on "Customize", select "WidescreenPatch.rez" and click on "Add".
Make sure that "Always load these rez files" is enabled.
Click "OK" and start the game.